I have finished my socks for both of my sock swaps. I'll post pictures here after I get the boxes out and my partners receive their goodies! I can hardly wait for the ladies to get them!
B loves to spin with me. I brought out my drop spindle a few weeks ago, and she had to spin too. I have a little one that don't use, so I gave it to her. I spun up a short length of yarn for her, and she had a blast "spinning" her own yarn.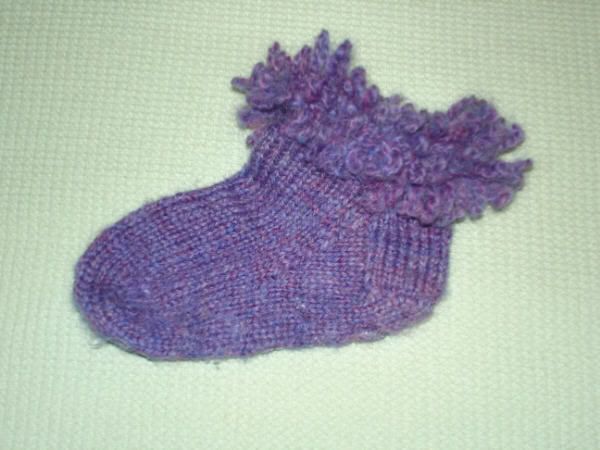 She also loves socks and handknit things, so I made her a pair of slipper socks out of the first yarn I spun on my wheel. It is slightly thick and thin, but was mostly a light worsted weight. I'll give you the numbers that I used, but it is just a basic sock recipe. I did not write out explicit directions and I assume that you are already familiar with basic sock construction. If you aren't you can find a pattern with pictures here.
Size: Toddler size 6
Yarn: 100 yds worsted weight handspun wool
Needles: US 3, (3.25mm)
Loop Stitch: Knit 1, but so not remove stitch from left hand needle. Bring the working yarn to the front between the needle tips and wrap it around thumb. Bring the yarn to the back again, slip the stitch from the right needle back to he left, and knit it together with the original stitch. Another description with pictures can be seen here.
Cuff: Cast on 36 sts. Work these 6 rows back and forth
R 1: Work loop st. in every stitch.
R 2: Knit
Repeat these 2 rows 3 times. The remainder of the cuff is knit in the round. With the loops on the wrong side, join and work 10 rounds in k2, p2 rib.
Heel:
R 1: Slip 1, knit 17, turn.
R 2: Slip 1, purl 17.
Repeat these two rows 9 times total.
To turn the heel, work as follows:
slip 1, k10, ssk, k1, turn;
slip 1, p5, p2tog, p1, turn;
slip 1, k6, ssk, k1, turn;
repeat, working one more stitch before the decrease until all heel flap sts have been worked, ending with a purl row.
Slip 1, knit across heel, pick up 10 sts in slipped stitches of heel flap. Continue across the instep in st st, then pick up 10 sts on the other side of the heel flap.
Foot:
Decrease for the gusset every other round until 36 sts remain. Work even until 1" from desired length (3 3/4")and then decrease for the toe.
Toe:
Decrease eor (every other round) 3 times, then er (every round) 2 times. Graft remaining sts together.
Knit a second sock to match. If you knit a pair of these socks, please consider knitting another pair in some warm wool yarn and sending them to CIC.
Copyright 2006 Chrysalis Knits.