Here is my first skein of Morning Glory yarn, 250 yards and 2 oz. I'll be happy if I end up with 500 yards of the blue. It is a little heavier than fingering weight, and it is nice and fluffy! Just what I was aiming for.
Now the rest of this is all Cary's fault. Ever since she said that the blue reminded her of morning glories, it has been downhill from there! I have all sorts of ideas bouncing around in my head for morning glory patterns is lace and in stranded knitting. Since I didn't want to try to match the colors in the blue morning glory blend, I made a leaf blend instead. I used bright green, emerald green, and just a touch of green and yellow firestar, with the same 50% BFL, 25% silk, and 25% alpaca base. I really like the way that these turned out as well! I am trying to decide if I want to use beads in this design or not. We'll see how the swatching goes, and I may need to save some of the ideas that I have for when I have a bit more time to play with them.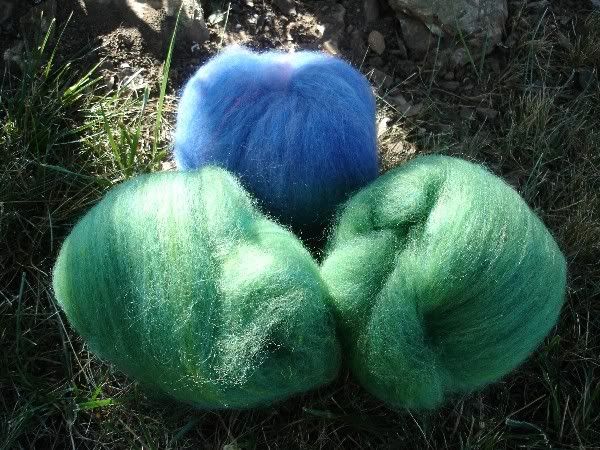 I'm also working furiously on my Sockapalooza socks, and am nearing the toe of the first and hope to finish it and cast on the mate this weekend. I'll have a picture of them when I'm finished!